In the event of a change in the name of an employee, he should write a statement about the change in information in documents containing personal data. The director of the enterprise must issue an order, and the personnel officer must enter the relevant data in the specialist's work book, his personal card, as well as in the employment contract concluded with him.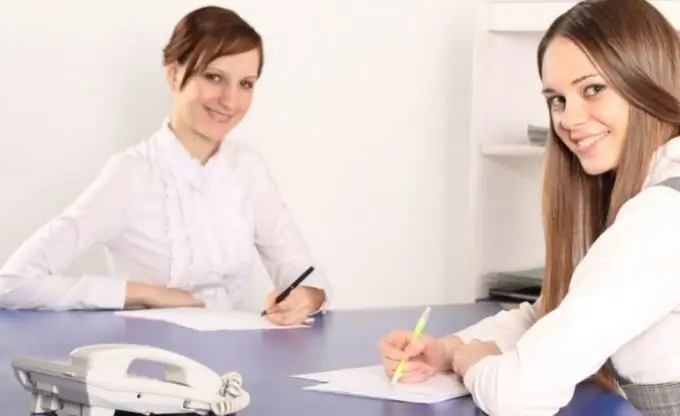 It is necessary
- employee documents;
- documents confirming the change of surname;
- Labor Code;
- forms of the relevant documents;
- company's stamp;
- documents of the enterprise;
- personnel documents.
Instructions
Step 1
An employee who has changed his surname should write an application addressed to the first person of the company. In it, he needs to express his request to amend documents containing personal data. The employee must put a personal signature on the application, the date of writing; attach a marriage certificate and a passport to it, subsequently, personnel workers need to make copies of these documents, and return the originals to their owner.
Step 2
Draw up an order, in the head of which write the name of the enterprise in accordance with the charter or other constituent document. Give it a number and date. The subject of the order in this case must correspond to the introduction of changes to the documents containing the personal data of the employee. The reason for drawing up the document in this case is the change of the surname. Indicate the position of the employee in accordance with the staffing table. Enter the specialist's previous and current surname in quotation marks. For example: "Ivanova" to "Petrova". Place the responsibility for the execution of the order on a cadre worker. Introduce the employee who changed his surname with the document to be signed. Certify the order with the seal of the company, the signature of the director or other authorized person.
Step 3
In the employee's work book on the title page, cross out the old name of the employee with one line. Enter the new surname on the right or above, depending on the availability of free space. On the inside of the cover, put the serial number of the record, the actual date of the order for making changes to the documents containing personal data. At the bottom, write the series, the number of the marriage certificate or other document, in which the change of the surname of this employee is recorded. Certify the record with the seal of the company, the signature of the person responsible for accounting, maintenance, storage of work books.
Step 4
Make the appropriate changes to the employee's personal card by crossing out the old name and writing a new one. Enter the current personal data of the employee in the employment contract. Certify the entry in both documents with the signature of the specialist and the person responsible for signing the relevant documents.