The CEO of the company is the sole executive body and is responsible for resolving legal and other issues without a power of attorney. To do this, the accepted or appointed head of the enterprise should fill out the p14001 form, attach the necessary package of documents to it. Then he needs to submit them to the tax service to make changes to the unified state register.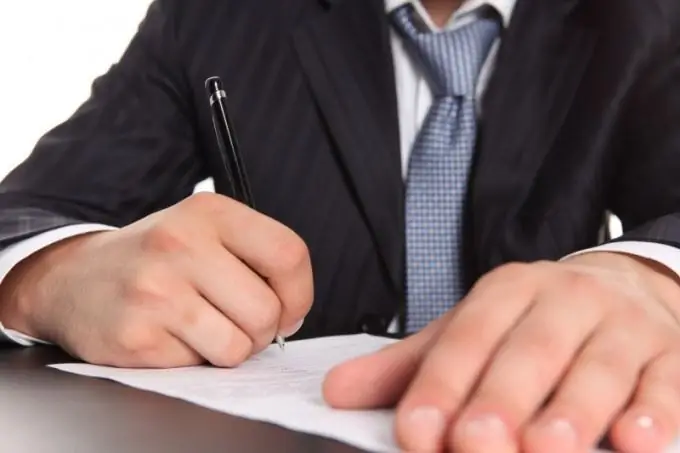 It is necessary
- company documents;
- protocol on the appointment to the post of director;
- seal of the organization;
- a pen;
- Labor Code of the Russian Federation;
- director's documents.
Instructions
Step 1
On the first page of the application on the p14001 form, enter the full name of the enterprise, in accordance with the charter or other constituent document. Indicate the unified state registration number, the date it was assigned to the legal entity, and also write the taxpayer identification number and the code of the reason for registering this organization.
Step 2
Check the box that contains information about persons entitled to act on behalf of a legal entity without a power of attorney. In it, indicate the number of sheets, which depends on how many individuals are supposed to be vested with such powers. If the previous director leaves, he must fill out this sheet when removing such responsibility from him.
Step 3
On sheet 3 of this form, put a "V" in the column for assigning powers. In paragraphs 2-6, enter your last name, first name, patronymic in accordance with the identity document, date, name of the region and city of your birth. In the seventh column, write the name of the position held in accordance with the staffing table. Fill in the eighth paragraph if you have a taxpayer identification number.
Step 4
In the ninth column, indicate the type and details of the identity document (series, number, date of issue, department code, name of the issuing authority). The tenth paragraph is intended for writing the address of your place of residence (region, city, town, street, house number, building, apartment).
Step 5
The completed application, a copy of the passport, the protocol on the appointment of an individual to the position of director, you should submit to the tax authority. Upon receipt of these documents, employees of the tax service must make the necessary changes to the unified state register of legal entities. Thus, the director who filled out this form is responsible for the entire firm, he can resolve legal issues without a power of attorney.