Dwight David Eisenhower was the 34th President of the United States. He had a lot of things to do, so he decided to create his own planning system so that he could always keep up with everything.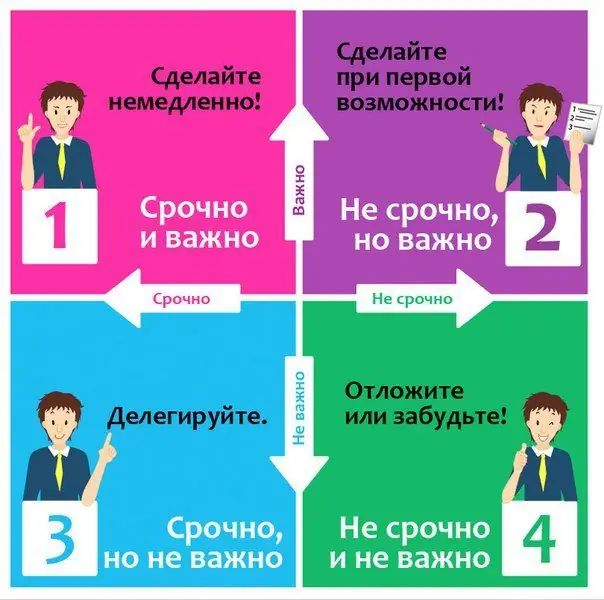 Eisenhower suggested using a priority matrix to plan cases. It is based on prioritization according to the criteria of the importance and urgency of the tasks. Cases are broken down into four categories:
… These are things that will be too late tomorrow. These matters must be dealt with without fail and first of all. Eisenhower implied that this column should always be empty because if you have an urgent task, you immediately assess its importance and urgency and begin to carry it out. Various unforeseen circumstances, force majeure, visits to the doctor, urgent calls can be entered in this column. You need to try to do such things right away, bring them into this category mentally.
… As a rule, it is these activities that most of all affect the productivity of the activity. It is they who are so often put off for later, which is why they pour out into tails and rush jobs and they can be safely transferred to category A. These are cases that should be done immediately in the absence of cases in column 1.
These are things that seem impossible to refuse, but they spend most of our time, while not moving us towards the goal and not bringing us any benefit. Cases in this column need to be carefully reviewed. Are they worth your time, do you need to fulfill them? Eisenhower advised you to look for people who can accomplish these tasks for you with the same success or better.
… These are the most unproductive things to do. Sitting on social networks, flipping through magazines, watching TV - this takes a lot of time, bringing a minimum of benefit. If such things have become a habit, you need to gradually get rid of them, reducing the time allotted to them.
You will be able to properly distribute your affairs by asking the questions: Is this task important? What happens if you do it tomorrow? What happens if you don't do it at all? This way, you can prioritize doing the things you really need first and not waste time.