Establishing contact with a customer is an urgent problem for a modern seller. Many people, especially new store employees, do not know how to properly initiate a conversation with a customer.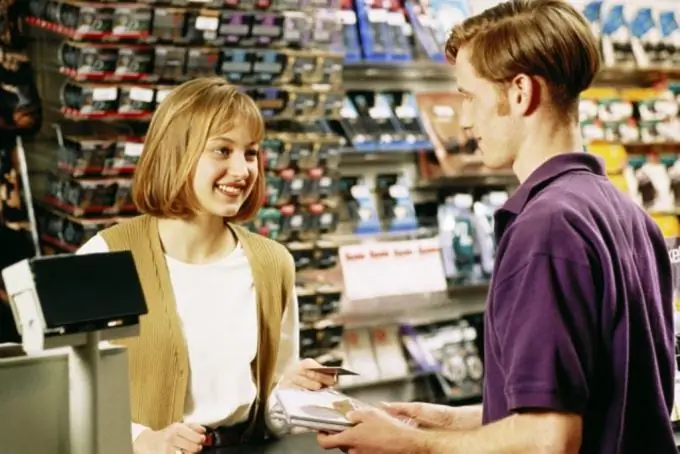 Instructions
Step 1
Show attention to the buyer. It is not at all necessary to immediately approach him with questions and suggestions. The main thing is to make it clear to the client that they see him and are ready to help at any time.
Step 2
Try not to get too close, but also don't go far. The optimal distance between the seller and the buyer is between 80 and 100 cm.
Step 3
Greet your visitor. This can be done immediately upon entering, or when he makes it clear that he is interested in consulting. How to start a conversation with a customer depends on the specific situation. The greeting should be very warm and friendly. Be sure to smile when establishing contact. The speed of establishing contact depends on the seller's first phrase. Try to show your gut and figure out how to start a conversation with a particular customer.
Step 4
Study buyers. You should know that there are at least 4 types of clients: determined, indecisive, conflicting, and advanced. The first will establish contact on his own, the second expects this from you, the third must be able to deprive them of reasons for disputes, and the fourth should be agreed in all his arguments.
Of course, these are general guidelines. Each salesperson must learn to understand what kind of person entered the store.
Step 5
Start the dialogue in a way that the customer wants to continue. The main rule for this is never ask a question that can be answered "no". It is better to greet the client and say that you are always there and will gladly help you in choosing. Another way is to ask a "tie-in question". It represents any statement and directly "ties". A good example is the phrase "This modification is original, isn't it?" This is one of the best ways to start a conversation with a customer.
Step 6
Remember that the first phrase sets the tone for the entire conversation. Learn to recognize the nature of customers and conduct a dialogue in accordance with it.