After the trade unions ceased to be an integral part of every organization, the responsibility for labor protection was assigned to the personnel department. And in the office of this department there should be a corner in which employees can find useful information and learn the latest news.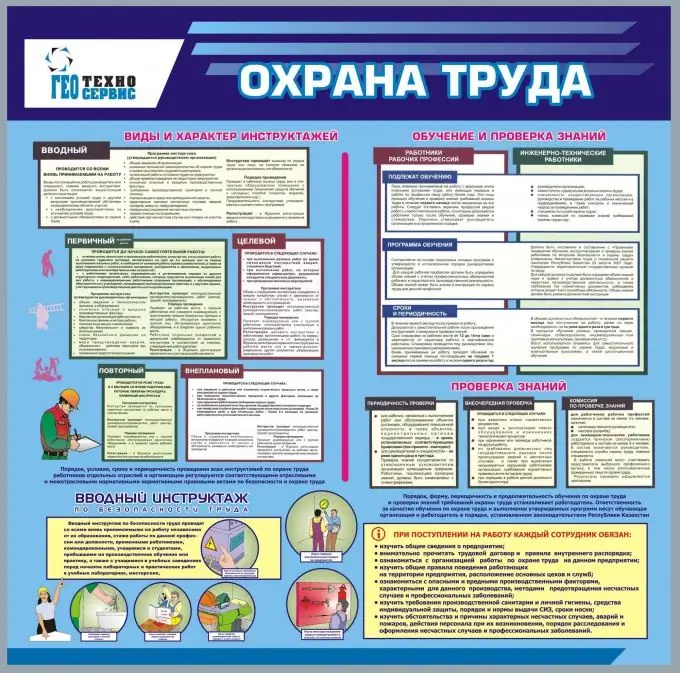 Instructions
Step 1
The main detail in the design of the labor protection corner is the information stand. A board with a soft surface, to which announcements are attached with buttons, is best suited for this purpose. Stands with A4 plastic pockets are not convenient. The material that needs to be made public does not always fit on standard size sheets.
Step 2
The stand must have a name. Place it in the center, near the top edge of the board. You can use the standard ones: "Company News", "Useful Information", "Human Resources Information". Or compose your own, original, which corresponds to the field of activity of the organization where you work.
Step 3
Divide the information board in half. On one side, list the answers to the most popular questions. There should be information about taking time off, vacations, overtime pay, etc. Each company has its own priority information. And the HR department should be the first to hear about the news in the organization. Attach the fire evacuation plan and safety instructions there. On the other side of the stand, hang congratulations on the holiday, photos of the best employees, birthday people, and more. If you need to communicate something very important, make the headline "Urgent". Be sure to highlight it in a different color and in large letters.
Step 4
Place the "Corporate Mail" pocket on the bulletin board. Thus, the personnel department will establish feedback with the employees of the enterprise. Even anonymous letters can help you get information that will never be released in meetings.
Step 5
Next to the board, place a table on which two or three copies of the code will lie, with tabs on labor protection laws. Also on the table should be samples of applications for leave, dismissal and admission to the state, and a set of pens. This will help employees to draw up the documents for which the HR department is most often contacted.
Step 6
Hang photos of employees at work next to the information stand or above the table. If you have a manufacturing organization, place product samples in the OSH corner. Put indoor plants, paintings, calendar in your office. Co-workers who come to HR for advice should feel right at home.