For a long time, the salary of medical workers was strictly regulated and consisted, in fact, of the official salary and additional payments for work in special conditions (if any). Recent health care reforms have brought about changes in the payroll of doctors. The new wages have sparked a lot of local debate. The lack of understanding of the staff was due in most controversial cases to a lack of knowledge in this matter.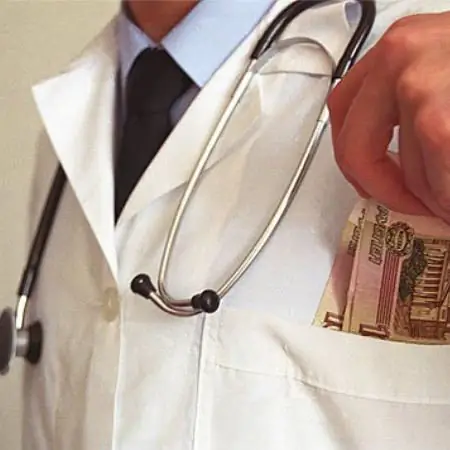 Instructions
Step 1
Please note that salaries, wages, bonuses and compensatory allowances, for example, for work in conditions deviating from normal conditions, as well as incentive payments and bonuses, are prescribed in a collective agreement or other local regulation and comply with labor law requirements. Moreover, the monthly earnings of an employee who fully fulfilled the labor standards and worked out the amount of working time should not be lower than the minimum wage.
Step 2
Remember that the wage scale, according to which the accruals are carried out, is the same for public sector employees. Salary is calculated based on the category, which depends primarily on the position of the specialist. With an increase in the qualification category (as a rule, once every five years), as well as in the case of obtaining the scientific degree of a candidate of sciences or the honorary title "Honored Doctor of the Russian Federation", the salary is increased by one grade. In the case of defending a doctoral dissertation or awarding a doctor the title of national salary, the salary is increased by two categories.
Step 3
Calculate the remaining allowances based on the base salary. According to the law, specialists in rural areas are based on a schematic salary, which is equal to the sum of the basic salary and a twenty-five percent increase for work in the village. Doctors of city medical institutions have a basic salary equal to the basic one. The so-called harmful working conditions have anti-tuberculosis institutions, infectious diseases hospitals, dermatovenerologic dispensaries, centers for working with HIV-infected patients, pathological departments, forensic medical examination bureaus, leper colony, psychiatric hospitals and drug treatment centers. In addition, radiologists and radiologists, doctors of ultrasound diagnostics, specialists who treat patients in hospices and sanatoriums for the deaf or blind receive their allowances.