The ability to beautifully lay the table will come in handy both at a holiday and during a romantic dinner. Moreover, some simple tricks can be used even at a regular breakfast to cheer up the household in the morning.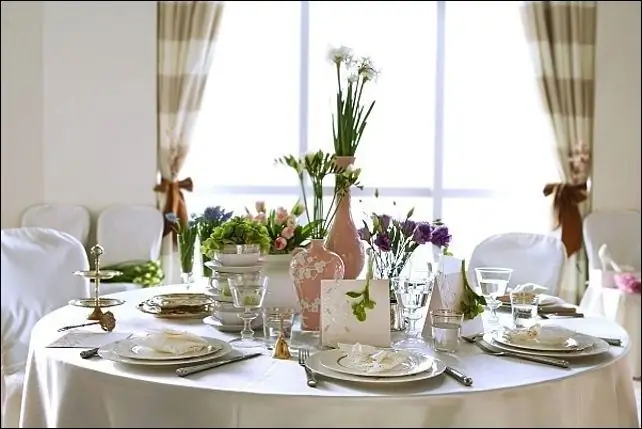 General fashion trends in serving
Designers recommend giving preference to products of light colors when choosing dishes. The best option is snow-white dishes, because it is very easy to pick up a tablecloth, cutlery, napkins for it. White is in harmony with many shades, therefore, choosing this option, you probably will not go wrong and will greatly facilitate your task. If you want to make the serving more original, use a simple technique: buy dishes of an unusual shape. Curved handles, asymmetry, trendy architectural designs are all great. By the way, cutlery can also have an original shape.
Remember a simple design technique: to make the table look beautiful, you need to choose elements designed in the same style. The best option is to use dishes, cutlery from the same series.
It is important to take into account one more point: the basis of an individual, stylish serving is a tablecloth and napkins. For example, to decorate a beautiful festive table, use the classic technique: first, lay a large tablecloth in bright colors with suitable ornaments, then put a white short tablecloth on it and add napkins that should be in harmony with either the bottom layer of the fabric or the top one of your choice. … White napkins make the table setting more solemn, color ones - brighter and more original.
Designer table setting for different situations
When setting the table for a romantic dinner, there are special techniques to be used. It is recommended to choose a white tablecloth and red napkins, as this combination of shades symbolizes love and romance. The fabric can be light, openwork - in this case, it is also appropriate. Overloading a romantic table with a whole set of dishes, forks, spoons, knives is a bad idea, because you are not preparing for a secular dinner. It is much more appropriate to leave the main dishes and cutlery, but at the same time choose original items. Particular attention should be paid to the glasses. Finally, you can complement the table with candles in exquisite candlesticks or a low vase of flowers.
When setting the table for breakfast, remember the rule: the simpler the serving, the better. The ideal option is a calm style, a minimum of dishes and cutlery, no decorations. It is good if the table is supplemented with a decanter of juice or compote, small bowls for jam or honey.