If you have to organize and conduct a business meeting, remember: the success of the event largely depends on quality preparation. Don't miss a single detail and your meeting will be top notch.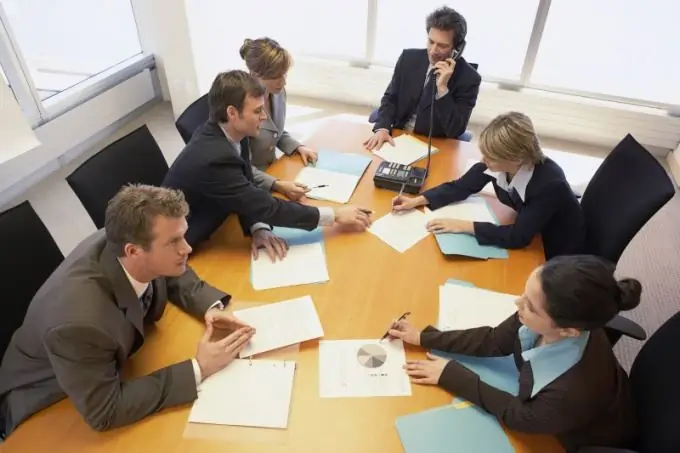 Instructions
Step 1
Set a date for your business meeting. Notify all participants in advance. Depending on the format of the event and who you are holding a business meeting with, this can be an oral invitation, telephone, email, or business letter. It is advisable to send out an agenda to everyone, with designated issues for discussion, keynote speakers, by-laws and reference materials. If the participants are more prepared, the discussion of business issues will be more effective.
Step 2
Think about the most convenient location for your business meeting. A suitable space can be a company's own conference room or a meeting room. It is worth making sure that none of your colleagues are applying for another meeting at the same time. A rented conference room is also an affordable and rather convenient option. This service is offered by hotels and hotels, business centers, educational institutions.
Step 3
Sometimes business meetings are held in cafes or restaurants. This option is appropriate when the number of participants is small. If you want to combine negotiations with lunch or breakfast or have a business dinner, you have to reserve a table in advance. The place should not be noisy, otherwise it will be difficult to discuss business issues. It is also undesirable to choose extravagant and exotic options, your tastes may not coincide with the preferences of other participants. Therefore, it is better to opt for a classic establishment or make sure that your partners fully share your passions.
Step 4
Prepare and test the hardware. Projector, microphone, telephone and video equipment - adjust and configure everything in advance. Techniques tend to break down and shut down at the most inopportune moment.
Step 5
Calculate if there are enough chairs for all participants. Make sure the room is not too stuffy or too cold. Do not forget about writing materials - you should provide everyone with a pen and paper. Spread out the handout. Make and place nameplates with the names of the participants, if necessary.
Step 6
If the meeting is long, you may need a coffee break or lunch break. In any case, take care of the water - a bottle of water and a glass next to each participant is a good option.