If you are not satisfied with the salary, the moral climate in the team, and the career opportunities at this enterprise have already been exhausted, then it is time to think about finding a new job. This can be done using a resume posted on job sites, or by responding to an ad in a newspaper or on the Internet. You can talk with the employer in advance by phone or directly at the interview, but, in any case, you need to interest him.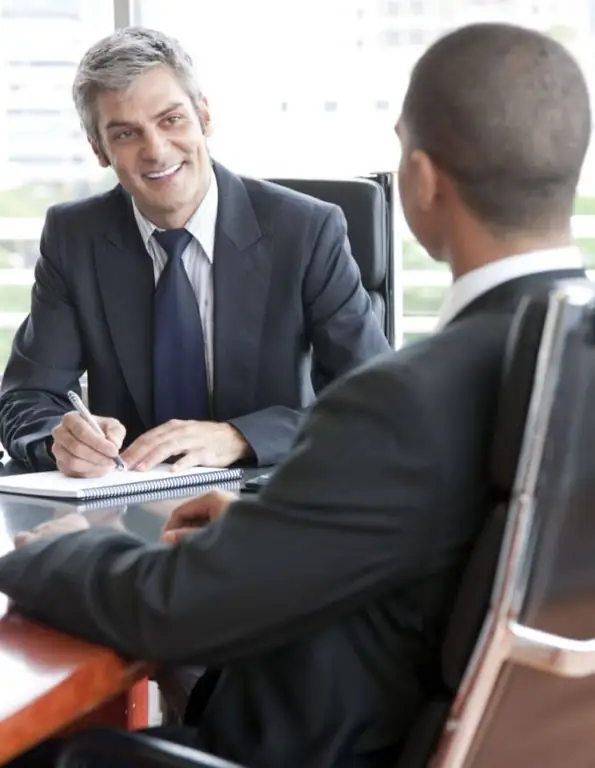 Instructions
Step 1
Do not rely on impromptu behavior. Before talking, think about what questions you might be most likely to be asked. You can even write down the answers on paper. Say them to yourself several times.
Step 2
Find out more about the company that interests you. Think about how your experience, knowledge and personal qualities can interest the employer, how you can stand out from the number of other applicants. Do not forget those business connections that you managed to acquire, this can also be your plus.
Step 3
Start a conversation with an employer with personal data. When talking about age, mention the number of years, not the date of birth. If you have a temporary registration, then do not forget to indicate this fact. List your work experience briefly, better list the places of work and positions that are relevant to this vacancy.
Step 4
In the event that the education you received meets the requirements, you can mark your academic success, give information about the additional education received, advanced training courses, but without details - if necessary, the employer himself will ask additional questions.
Step 5
Tell us about your professional knowledge and skills, note the advantages and strengths that may be in demand in this job. There is no need to list everything in a row, highlight the most interesting ones that probably correspond to the profile of this company and will show how well you fit the vacant position.
Step 6
Refer to the company information you received and learned. The employer should get the impression that you are motivated to work in it.
Step 7
Listen carefully to the interlocutor, ask him questions about the company and job responsibilities. Ask how and where you will be able to show your skills and knowledge, what additionally you need to know, what to learn. You will be able to see how much this position suits you, and the employer will see your interest in the proposed job.