Business cards are essential if at work you often have to communicate with people and exchange contacts with them. Most photo salons provide services for the production and printing of business cards. But if you wish, you can do them yourself.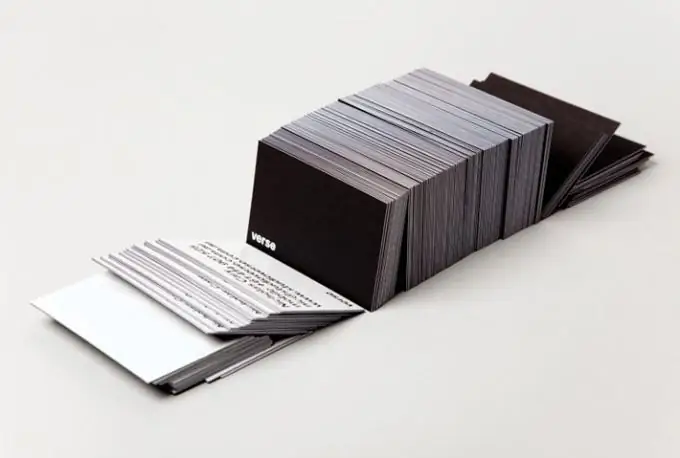 Necessary
- the program "Master of business cards";
- Printer;
- photographic paper.
Instructions
Step 1
Start the "Business Card Wizard" program, in the window that opens, select the "Business Card Templates" item. Click on this button and go to the section of ready-made samples.
Step 2
The catalog of templates contains more than a hundred options for various business cards by topic. Among them are universal, cars, beauty and style, computers, medicine, technology, health, government, real estate, business cards with photos and many others. In the preview window, it is located to the right of the list of styles of business cards, select the template you like and double-click on it. This will take you to the section for editing the business card. If you are not satisfied with the ready-made business card templates, create your own by choosing the New Business Card option from the File menu or using the keyboard shortcut Ctrl + N.
Step 3
Now, in the bottom field in the appropriate lines, enter the information you need: company name, slogan, description, address, last name, first name, patronymic, position, phone numbers, postal address, website address, email address.
Step 4
The bottom line in the "Picture" section is set to "No" by default. But you can add any image from the program directory or from the computer folder and removable media (flash card, disk).
Step 5
When your business card is ready, on the top toolbar, find and click the "File" button, then in the drop-down window select one of the options: "Save Image", "Save Layout for Printing".
Step 6
By selecting the "Print business cards" option in the same section, you will be taken to the print page. Here, on the right side of the working window, you will need to specify the paper size on which you are going to print business cards, the number of business cards on one page, page orientation (vertically or horizontally), margins and between business cards, cropping markers. You can leave everything unchanged: the program automatically contains all the necessary parameters.
Step 7
Below, click the "Save layout to file" button and select the document format you need. This will allow you to later download the created file and print ready-made business cards in the required quantity.
Step 8
At the bottom right of the page, click the Print button, then in the new window select the printer to use, the print range and the number of copies. If necessary, go to the "Properties" section and specify additional print settings. Insert paper into the printer. Click "OK" and wait for the printing process to finish. After that, all you have to do is cut the business cards with scissors or a special cutter.