If an employee for some reason does not accept the documents provided to him, it is important for a personnel worker to legally correctly record this fact. For this, witnesses are involved, and an appropriate act of refusal to receive a document is drawn up.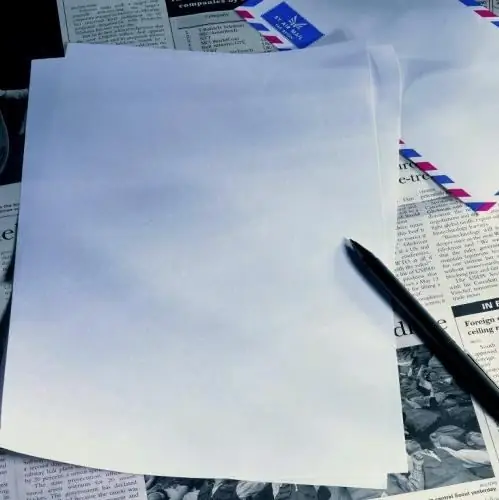 Instructions
Step 1
At the top of an A4 sheet in the center of the line, indicate the full name of the organization in accordance with the Charter of the enterprise. If the company has an approved letterhead form for business letters and documents, use it by copying the header. If necessary, write down the legal and actual addresses, telephone, fax, e-mail.
Step 2
On a new line, write the name of the letter "Act No. __ on refusal to receive documents." Please indicate the place and date of compilation below: city, date, month and current year.
Step 3
In the text part of the act, write down the surname, initials and position of the compiler, and also indicate information about the witnesses involved. Their role can be played by employees of the personnel service or employees of the department in which the person who does not accept the documents is listed. Bring at least two witnesses to draw up the report, and to avoid unpleasant proceedings with the Labor Dispute Resolution Commission, choose disinterested and knowledgeable persons for the role of witnesses.
Step 4
Indicate the date of handing over the document. Specify the time and place of action if necessary. List the name, number, date of issue of the document that the employee refuses to accept. Indicate the documents that put forward the transfer requirements: orders, approved standards, instructions, the Charter of the organization, etc. Reflect the employee's oral explanations in the refusal statement. If he refuses to receive the document without explaining the reasons, make a note about it.
Step 5
If necessary, describe further manipulations with the document that remained in the hands of the HR officer: how and where the copy will be stored, how it will be sent by mail, who will be responsible for further storage and possible transfer to third parties.
Step 6
Sign the compiler and witnesses to the compilation. Decipher initials and titles. If the employee who does not accept the documents refuses to sign this act, make a note and certify it with your signature and the signature of witnesses.