An interview with a potential employer is akin to an oral exam, when you need to not only answer the question posed, but also substantiate your point of view, provide evidence and at the same time present yourself in the best light, because a lot depends on the impression. Almost always, those who want to get a job are very worried about such an interview, but simple preparation will allow you to cope with their fears and insecurities.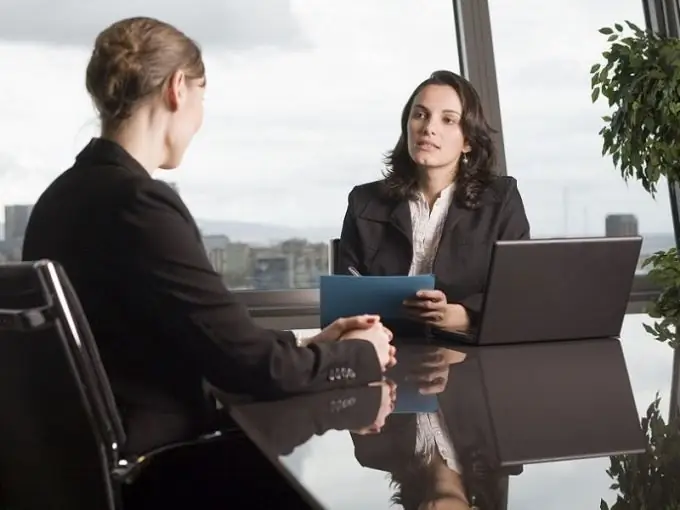 Have information. Before going to an interview, try to find as much information as possible about a potential employer - study the main directions of the company's activities, clarify its organizational and legal form, the presence of branches. The Internet will help with this, by the way, social networks can be useful, especially groups whose members are united at the place of work. By being aware of the main aspects of the firm's activities, you will be able to formulate your answers more clearly and demonstrate your competence.
Try on the look in advance. Be sure to think about what you will wear. It is best to opt for something neutral and business-like. Of course, the interviewer can be amazed with a topical malachite-colored velvet trouser suit, but if your prospective work is not related to the fashion world, then the interlocutor may simply not know that such a look has become a hit in the latest collections of the world's leading designers. You should also pay attention to your hands and nails so that a stale manicure on the day of the interview does not become a reason for unnecessary excitement.
You have nothing to lose. During the interview, remember that nothing bad will happen if something goes wrong. Most likely, this is not the last meeting with a potential employer in your life. Try to set yourself up for invaluable experience, not the only chance to fill a vacant position in a good organization. In the end, if for some reason someone else is chosen from the list of candidates, then this is not the most suitable job for you, and in this case, you will not meet these people again.
Before you is an ordinary person. Sometimes job seekers look confident and calm, but after the first words of the interviewer they lose their will, stumble, even begin to hear poorly. Therefore, in advance, even before the day of the meeting, you should tune in to the fact that you will communicate with the same person as you. He also got the job after an interview, possibly after months of looking for a job. He is not God, not a saint, but only a man, even his position is written exclusively in English and occupies several lines on a business card.
Use your imagination. If you feel overwhelmed while waiting for the interview, try to distract yourself and imagine yourself in a very comfortable and pleasant environment where you love to be. It can be a seaside, a favorite city, a new apartment furnished at your own discretion. When the time comes to communicate with an employee of the company where you want to get a job, imagine him in a ridiculous way, for example, with hare ears on his head, with a clown nose. Young actors often imagine the audience naked, this helps them to get rid of embarrassment themselves. Try a similar trick in any public place beforehand. By the way, after greeting the interviewer, mentally give him something pleasant - a flower or candy, they say that such a "step" helps to win the interlocutor towards you.