The easiest way is to obtain a certificate of dissolution directly upon divorce, if both spouses agree to it and do not have children. However, there may be situations where additional action is required. This applies to divorce in court and obtaining a new divorce certificate. But even in the most difficult situation, the desired result is quite real.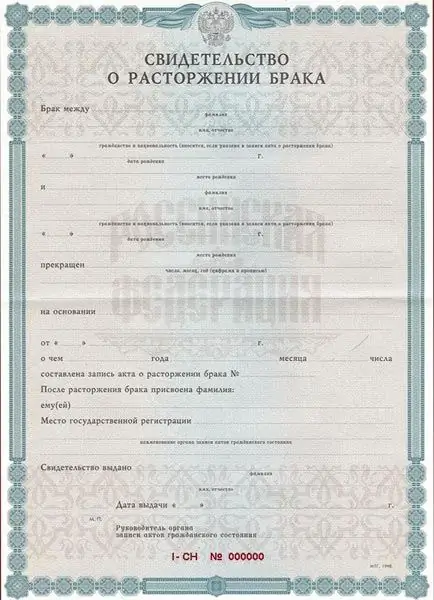 It is necessary
- application for divorce, court decision and application for re-issuance of the certificate;
- receipt of payment of state duty.
Instructions
Step 1
If the spouses have no children, both are not against divorce and are ready to come to the registry office together, they are only required to pay the state duty (the size and details can be clarified in the registry office and Sberbank branches) and fill out the application form that will be given to them there.
Then you will need to come in due time for the finished document.
Step 2
If one of the spouses is against a divorce or does not appear at the registry office (for example, to spoil the other half), you will have to go to court to dissolve the marriage. Marriages between spouses who have minor children are dissolved only in court.
Divorce proceedings are conducted by justices of the peace.
The wait for the first court hearing will drag on for at least a month. And if one of the spouses is against the divorce, the court can give them up to 3 months for possible reconciliation.
The competence of the court includes the decision with whom the child will remain, and the recovery of alimony for his maintenance.
With a ready-made court decision, one must contact the registry office at the place of residence to obtain a certificate.
Step 3
A person may need repeated testimony in different situations. The easiest way is if he lives in the same city where the marriage was dissolved. He is only required to appear at the registry office, which was issued a certificate with a receipt for payment of the state duty and write a statement.
You can send an application with the attached receipt by mail indicating the address to which you need to send the document or prepare a notarized power of attorney to another person who will receive a certificate for it by paying the state fee and writing an application.
Those living abroad can prepare a power of attorney for a friend or relative in Russia and certify it at the nearest consular office of the Russian Federation or request the required document through the consulate.