Since 2007, foreigners who do not need a visa to enter Russia can independently obtain a work permit in the country. This greatly speeds up and simplifies their hiring, but there are some differences from hiring a Russian. So, the employer must notify the FMS, the employment service and the tax office about each foreigner.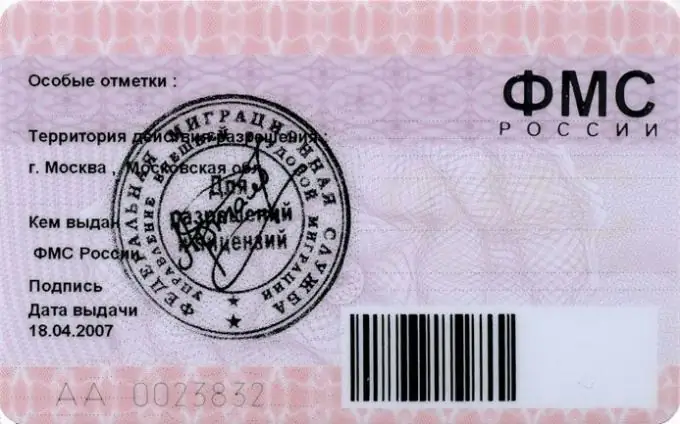 Necessary
- work permit;
- a document proving the identity of a foreigner, with a notarized translation into Russian;
- migration card;
- typical notifications for the Federal Migration Service, the employment service and the tax inspection.
Instructions
Step 1
When applying for a job, a visa-free foreigner must present to the employer his passport with a notarized translation into Russian, a migration card confirming the legality of his stay in the country, and a work permit. Please note that the permit gives the right to work only in the constituent entity of the Federation in which it was issued. If it is issued by the bodies of the Federal Migration Service of the Kaluga Region, then its owner has the right to conclude labor and civil contracts only in the specified subject of the Russian Federation and in no other. The same goes for the profession. If the profession of a cleaner is indicated in the permit, it is no longer possible to register its bearer as a loader.
Step 2
It will not be superfluous to check the work permit for authenticity. This can be done on the official website of the Federal Migration Service of the Russian Federation in the section "Document verification"
Step 3
HR administration within the organization is no different from the registration of a Russian: a candidate writes an application for employment, an employment contract is concluded with him, an order for his employment is issued, an entry is made in a work book. Or a civil law contract is concluded. A foreigner can draw up an INN at the tax office at the place of stay at the migration register. The PFR certificate will be issued by the employer in the same manner as for the Russians. But a foreigner himself can apply to the branch of the Pension Fund at the place of residence on the migration register.
Step 4
Within 10 days after a foreigner enters the state or concludes a civil law contract with him, the employer must notify the tax inspectorate, the employment service and the Federal Migration Service at the place of his legal address. bodies or download on the websites of their regional offices.