Labor productivity and, consequently, the level of income of the organization directly depends on the psychological climate in the team. If conflicts constantly arise in the team, then employees cannot solve important business issues together and are constantly distracted from work. It even happens that valuable employees quit, not wanting to become parties to conflicts anymore.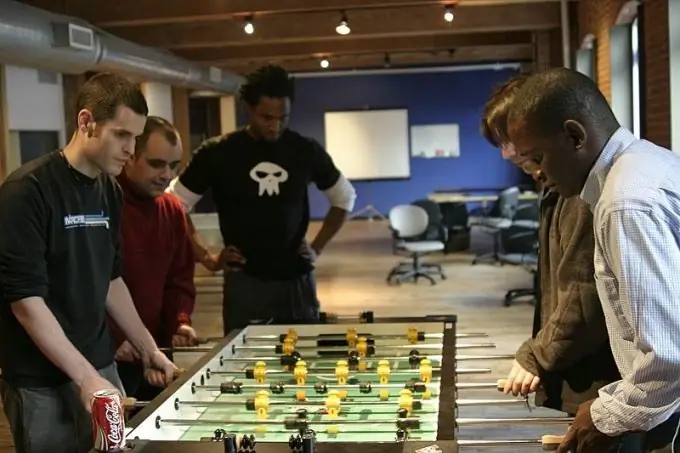 Instructions
Step 1
Pay special attention to the selection of personnel. Preventing conflict is easier than trying to resolve it later. Of course, professional qualities are important, but character traits must also be taken into account. If even at the interview the applicant gives the impression of an arrogant, arrogant, aggressive person, then he should be refused the job. Also, you should not hire someone who openly declares that at the previous place of work he constantly came into conflict with the team.
Step 2
Try to provide employees with a comfortable working environment. If a person is annoyed by constant troubles at work, uncomfortable vacation time, low pay, etc., he is unlikely to be inclined to be friendly with the rest of the team. Pay special attention to the arrangement of the workplace. The desk and chair should be comfortable so that employees do not suffer from back pain by the end of the day. Let the staff bring things that are close to their hearts from home and set up their workplaces themselves. So the office will become a second home for employees, and the team will be perceived as a family.
Step 3
Set up an office kitchen and break room where employees can socialize in an informal setting. Let the interior of these rooms be cozy and even homely, so that employees can relax and talk not as colleagues, but as friends. Chatting over coffee during your lunch break strengthens relationships and helps people bond.
Step 4
Be sure to hold general events: celebrate the New Year with the team, employees' birthdays and other holidays, from time to time go on hikes or picnics together. Such events cannot be turned into boring meetings, which are forbidden not to attend. Let the holidays be fun, and employees attend them with pleasure and of their own free will, not by order. Set up a stand and post on it the names of employees who will have a birthday in a few days. Colleagues will be able to see this information, prepare gifts and congratulations, which will also help improve the psychological climate in the team.