Often, when applying for a new job, your former employee asks you to write him a letter of recommendation. As a rule, personnel from the service sector are hired on the basis of recommendations: nannies, governesses, tutors, or financially responsible persons for the civil service. To compose a letter in accordance with generally accepted rules, you need to follow a certain pattern and use official business language.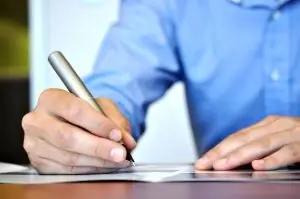 Instructions
Step 1
If you work in an organization, write a letter of recommendation on the letterhead of your company, with details and a seal. If not, then just on a white sheet of paper, in legible handwriting. If you are typing the recommendation on a computer, be sure to then put your handwritten signature at the bottom of the sheet.
Step 2
A typical outline of a letter of recommendation is as follows. In short dry phrases, you need to state in what period of time an employee worked for you, in what position, what duties he was engaged in. Next, enter your assessment of this person's qualifications. If during his work with you he excelled in something, or received some professional awards, give these facts as well.
Step 3
The main question that interests any employer is why did the employee leave his previous job? Be sure to include the reason for dismissal in the letter of recommendation, without going into unnecessary details. Since the recommendation will indicate your contact numbers, the new boss of your former employee will be able to call you and find out all his questions personally.