The birth of a child is the most important event in the life of any woman. The provision of maternity leave is guaranteed by the state, article 255 of the Labor Code of the Russian Federation. The maternity allowance is paid at 100% of the 24 month average earnings and is tax-free. According to the law, a woman has the right not only to maternity leave, but also to care for a child up to three years old, and up to one and a half years, the leave is paid monthly in the amount of 40% of the average earnings for 2 years preceding the period of maternity leave.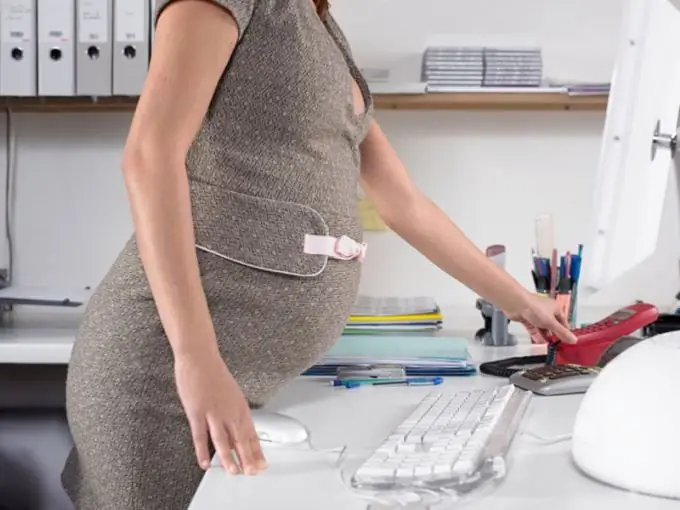 Necessary
- statement;
- sick leave;
- certificate of salary from all places of work in the billing period;
- a copy of the child's birth certificate;
- certificate from the husband's place of work.
Instructions
Step 1
Maternity leave is granted on the basis of a certificate of incapacity for work issued by the obstetrician-gynecologist of the antenatal clinic, in which the course of pregnancy was observed. They give a sick leave at 31 weeks of pregnancy if one child is being carried and at 29 weeks if the pregnancy is multiple.
Step 2
A woman must write a statement in which to indicate the request for maternity leave, the date of the start of the leave and the grounds for granting it. The basis is the sick leave, therefore, the application indicates its number, series and date of issue, start and end date. If a certificate of early registration has been issued, then in the application indicate that, in accordance with Federal Law No. 255-F3 dated December 29, 2006 and certificate number …, on a request to charge an allowance for early registration in an antenatal clinic.
Step 3
If you worked for several employers part-time, then at the main place of work, submit certificates of wages from all employers, since the payment of benefits is made based on the total income received at all enterprises in the billing period.
Step 4
In accordance with Article 260 of the Labor Code of the Russian Federation, before maternity leave, you can receive an annual paid leave, regardless of the length of service at this enterprise.
Step 5
Before maternity leave, hand over all work cases, relieve yourself of financial responsibility and other obligations.
Step 6
Leave to care for a child begins the next day after the end of the maternity leave. To receive it, write a statement, indicate the start and end dates of the vacation. Provide the employer with a copy of the child's birth certificate, a certificate from the husband's place of work that he does not use this type of leave.
Step 7
Parental leave from one and a half to three years is not paid, but is granted on the basis of a separate application.