Registration (registration) of the husband is carried out in a general manner, in accordance with current legislation. In order to register a spouse in your home, collect the necessary package of documents and enter it in the passport office.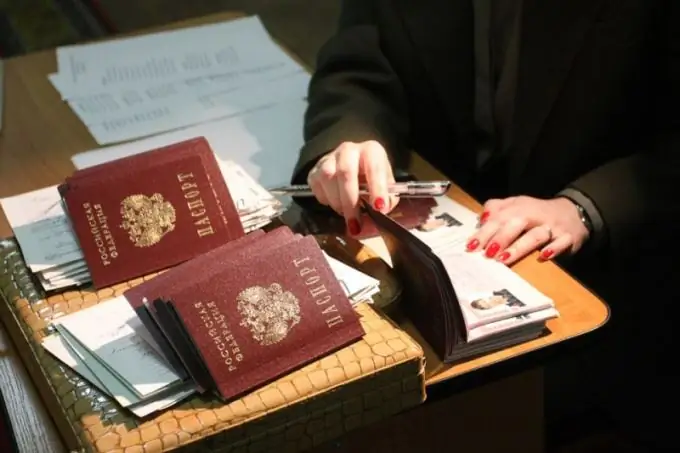 Necessary
- application of the established form for registration at the place of residence;
- the passport;
- certificate of ownership of housing;
- an agreement between the owner (s) of the dwelling and his family members for the settling of the person as a member of this family;
- a receipt for payment of the state duty.
Instructions
Step 1
Before registering at a new place of residence, your spouse must be discharged from the previous place of residence. He can do this in person by contacting the passport office at his former address and writing an appropriate application. Or, if he does not have the opportunity to do it on his own (due to distance, illness and other valid reasons), the registration authorities can write him out "in absentia" by submitting a corresponding request at the previous place of registration. True, the registration procedure itself in this case will take up to two months.
Step 2
After removing your husband from the register at the previous address, collect all the necessary documents for registration and go with your husband to the local passport office. The spouse must write an application for registration at the new place of residence. You, in turn, confirm in writing your consent to his residence and registration in your apartment. If you are the only owner of an apartment, then registering your husband will not be difficult. Your consent is enough. But if other adult owners also live in the apartment, you will need to collect consent from all of them to register a new tenant.
Step 3
Pay the state fee and attach the relevant receipt to your applications and a copy of the certificate of ownership or use of housing, hand over the documents to the passport officer.
Step 4
After checking the correctness of all the documents, a registration stamp will appear in the passport of your second half. From this moment on, your spouse is considered officially registered at the indicated place of residence.
Step 5
Please note that difficulties with the husband's registration may arise when living in a municipal apartment. Here you need to have enough square meters in the apartment. Although in 2008 the Supreme Court ruled that insufficient space in a municipal apartment is not an obstacle for a husband and wife to live together. So if you are denied registration on this basis, you can go to court.