There are frequent cases in production when it becomes necessary to carry out work that requires a higher qualification than that of the personnel of the enterprise. At the same time, there are employees who have already completed training or have experience that is not confirmed by a certificate of assignment to the desired category. An increased grade can be assigned by the qualification commission. But to initiate the process, you need to write a statement.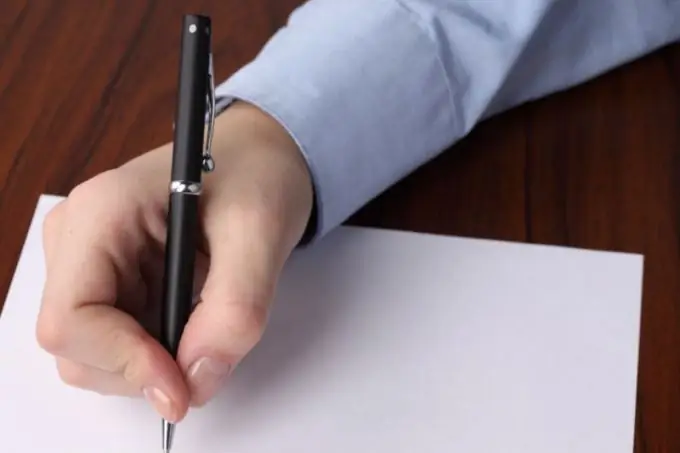 Instructions
Step 1
Write a statement in free form, but in compliance with the business style adopted in the design of such documents. First, specify the addressee. It would be correct to address your appeal directly to the attestation commission, but if there is no such commission at the enterprise, you will need to ask the head of the enterprise about the need to increase the category. He will be able to initiate the formation of such a commission or direct you to the appropriate educational institution. Next, specify the sender. Write your own name, profession and place of work here. Place the name of the document in the center of the sheet.

Step 2
Start the substantive part of the application with the words "I ask you to take the exam" and indicate the required category, qualification level. Inform the commission that you are familiar with the procedure for changing and assigning categories adopted at the enterprise. Please indicate your qualifications. List the reasons and circumstances that allow you to qualify for an upgrade to a specialist class. This can be the end of a training course, internship, experience in performing work corresponding to the required level of knowledge and skills.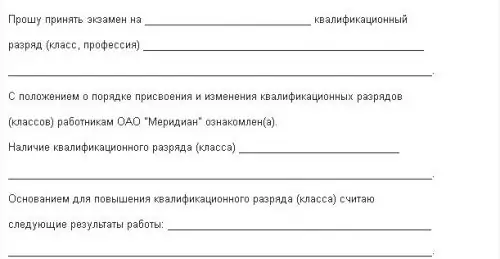 Step 3
In the final part, provide information about yourself that you consider necessary to submit to the commission. This can be work experience at a given enterprise, qualification level, availability of titles and awards, information on further education, diploma specialty, etc. Date the application, sign and decipher the signature. In this part, it will be appropriate to ask a manager or a specialist who could recommend you to improve your qualifications to sign your application.