The payment of alimony is carried out on the basis of a court order or a voluntary agreement in favor of minor citizens or incapacitated parents (Chapter 13 of the RF IC). Refusal from alimony is not regulated by any article of the Family and Civil Code, since this action violates the rights of minors and incapacitated citizens to maintenance, which is illegal. But in practice, it is possible to refuse to pay alimony.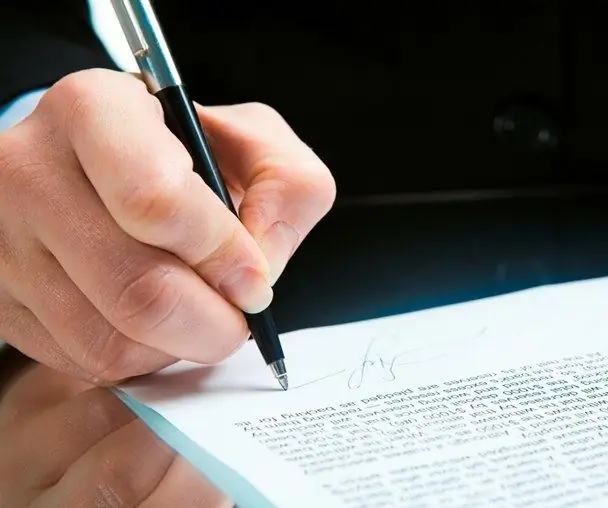 It is necessary
- notarial refusal;
- application to the bailiff service to terminate or suspend enforcement proceedings;
- Your passport;
- performance list;
- voluntary agreement;
- birth certificate of the child.
Instructions
Step 1
In order not to write a refusal to pay alimony, do not apply to the court and do not draw up a voluntary agreement on their recovery. But if the guardianship and trusteeship authorities check your living conditions and the maintenance of a minor child and it turns out that he needs something, and you do not receive alimony, you will be forced to apply for the recovery of alimony or the issue of depriving you of parental rights will be considered.
Step 2
If you have made a voluntary agreement on the payment of alimony, then you can contact a notary and draw up a voluntary refusal to pay them. Motivate this by the fact that you can support the child on your own and do not need additional material support. Indicate your full name, details of the defendant, full name of the person in favor of whom the alimony is paid. Write that you refuse to receive money support, the reason and terms, if the refusal is temporary.
Step 3
If alimony is paid on the basis of a court order, contact the bailiff service and write a statement to terminate enforcement proceedings (Article 43 of the Civil Code of the Russian Federation), indicate the reason for the suspension of the recovery of alimony. If the refusal is temporary, indicate the timeframe for the suspension of the alimony recovery proceedings.
Step 4
You can suspend or completely stop enforcement proceedings for the recovery of alimony, write a notarized voluntary refusal to pay, but all your actions are illegal. In addition, if you wrote a refusal today or suspended the enforcement proceedings, then this does not deprive you of the right to file an application for their recovery tomorrow.
Step 5
Do not forget that by depriving persons held under close supervision and care of the state for maintenance and a dignified life, you risk that you will be deprived of the right to fulfill your legal duties as a parent, guardian or representative. You may be subject to a child support waiver lawsuit. Therefore, think carefully before writing a refusal or terminating enforcement proceedings.