Divorce is carried out exclusively by state authorities. This can be a registry office (civil registry office) or a court - for cases directly provided for by the Family Code of the Russian Federation. The procedure for divorce is regulated by Art. 18 SK RF. And if the divorce procedure in the registry office is as simple as possible and filling out a standard application form is not difficult, then filing a statement of claim in court requires compliance with the special requirements of the legislation of the Russian Federation.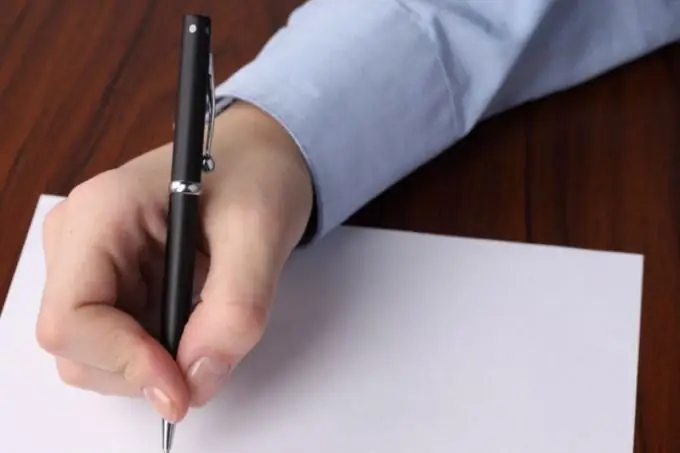 Instructions
Step 1
Start typing the text of the application on the computer, based on the provided sample, with the indication of the addressee to the "Justice of the Peace of the Judicial District". Write down the number and its location. Here, in the upper right corner, in addition, provide the last name, first name, patronymic of the plaintiff, his home address and contact telephone number. Fill in the details of the respondent in the same way. Further, in the center of the sheet, place the name of the document "Statement of Claim" and indicate the topic "on divorce."
Step 2
Open the substantive part of the application by indicating the date of legal marriage with the defendant and write his full surname, first name and patronymic. Next, indicate the end date of your life together (month and year). List the names and dates of birth of the children who appeared in this marriage. Describe the reasons why, in your opinion, family life did not work out. Tell the court from what moment the relationship was terminated between you and the joint household is not being conducted. Point out the impossibility of further living together, the absence of property disputes, the agreement concluded between you on the upbringing and maintenance of children
Step 3
In the final part, referring to Art. 21 of the Family Code of the Russian Federation, ask the court to dissolve the marriage between you and the defendant. Write the date of its registration, the name of the registry office and the number of its act record. In the "Appendix" section, list all the attached documents, numbered them in order (receipt of payment of state duty, copy of marriage certificate, copy of the statement of claim and copy of the child's birth certificate). Now put the date on which the statement of claim was made and sign it.