Almost every day, different companies issue powers of attorney to receive inventory items. A properly executed document entitles the representative of the organization to receive one or another product purchased for a legal entity.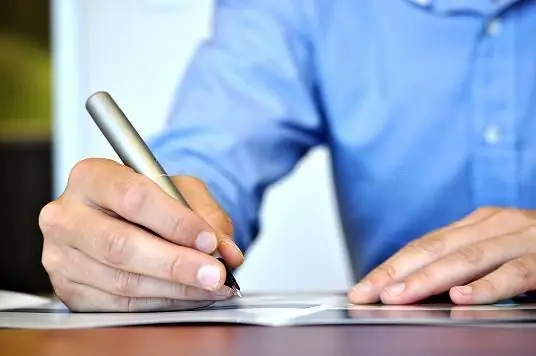 It is necessary
- a computer;
- Printer;
- sheets of A4 paper
Instructions
Step 1
At the top of the page, write the name of the document in capital letters. Be sure to indicate the date and place of preparation, and also include the document number.
Step 2
Further in the text, write information about the recipient of the goods and the company he represents. At the same time, write down the name and details of the company and indicate the last name, first name, patronymic of the authorized person, as well as his passport data (series, number, by whom and when the document was issued, department code). Do not forget to enter the name of the organization that is the supplier of material assets and its legal address.
Step 3
Indicate what kind of goods the trustee should receive: the name of the product and its quantity. If you do not have accurate data on the composition of the cargo or it is possible that the goods are misgraded, then in this case, indicate the total amount of inventory items in rubles. For example, receipt of goods in the amount of XXXX rubles 00 kopecks. Remember, the number of rubles is written in words, and kopecks - in numbers.
Step 4
Set the expiration date for the power of attorney. Most often it is written out for ten calendar days. If you wish, you can renew the validity of the document. But remember that according to article 186 of the Civil Code of the Russian Federation, it cannot be discharged for a period exceeding three years from the date of its issue.
Step 5
When at the end of the document the authorized person puts his signature with a decryption, sign the power of attorney with the chief accountant and the head of the company. Do not forget to put the company seal, otherwise the paper will be considered invalid.
Step 6
If you have the opportunity, use standard printed forms or one of the modern accounting software to issue a power of attorney. But at the same time, remember that such a document for the receipt of goods is issued to persons working in this organization.