If your apartment is flooded by neighbors, use our tips for getting out of this unpleasant situation.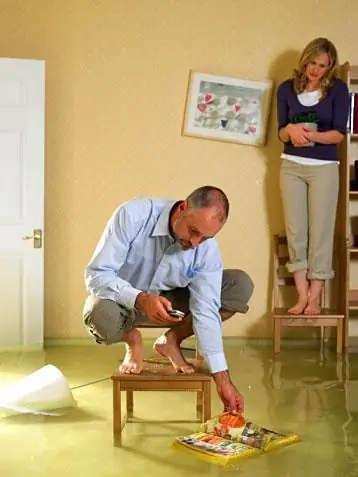 The first thing to do is turn off all electrical appliances. If the neighbors are not at home, call the emergency services - they will block the riser. List the damage and present it to your neighbor. If the neighbor does not agree to pay for the repair, call the HOA. They will send a representative, and he will draw up an act. Neighbor and after that goes to refusal, then call an independent examination. She will appreciate the damage. Then go to court with the results.
If public utilities are to blame for the flood, it is necessary to draw up an act of the emergency dispatch service. You must understand that it will be difficult to get the utilities to admit their guilt, but it is possible. Be stubborn and calm. Find evidence of faulty plumbing that the utility was installing. This will help during the examination and will be significant in court.
If you are the culprit of the flood. Shut off the water source immediately. It is impossible to turn off the water - call the emergency gang. Be present when drawing up the act and examination, so that nothing superfluous is attributed to you.