The residency registration application can be completed by hand, on a computer or typewriter, or online at the government services portal. In any case, all data is entered strictly on the basis of the documents from which they are taken: passports and others. The application must be signed by the applicant and the person who provides him with housing. You do not need to fill in the section under the signatures.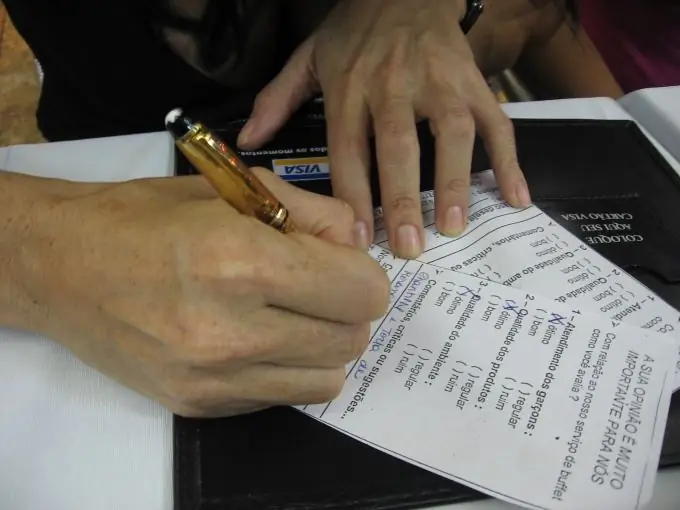 It is necessary
- application form;
- a computer;
- access to the Internet;
- Printer;
- fountain pen;
- passport;
- a document serving as the basis for moving into a dwelling (certificate of ownership, contract, court decision or other).
Instructions
Step 1
The document must indicate to which department of the FMS it is addressed, the applicant's surname and initials, his year of birth, passport details and the address where he lived before.
It is necessary to enter in the appropriate fields the surname and initials of the person who provides him with housing, the degree of kinship in the presence of kinship with the applicant and the relationship to the premises provided (for example, the owner).
The title, number and series and date of issue of the relevant document shall be indicated in the field for the basis for the provision of residential premises.
Step 2
If the applicant has not signed out from the previous address, he must fill out the cut-off coupon of the application for deregistration located at the bottom of the page.
There you need to enter your surname, initials, year and place of birth and passport details of the applicant, his new address and the FMS body to which the application is addressed (at the new address).
In the event that the applicant has already been discharged from the previous place or does not have a residence permit, it is not necessary to fill out this part of the application.
Step 3
If children under 14 are registered with the applicant, a separate application is filled in and signed by one of the parents for each of them. The columns for passport data indicate information about the birth certificate.
Teenagers between the ages of 14-18 fill out and sign their applications themselves on the basis of passports, which, by law, at this age must already have.