Often, different authorities require you to bring certificates. You may need a certificate of family composition, or no tax arrears, or information that you have not received benefits. There are certain requirements for writing certificates. They must be adhered to.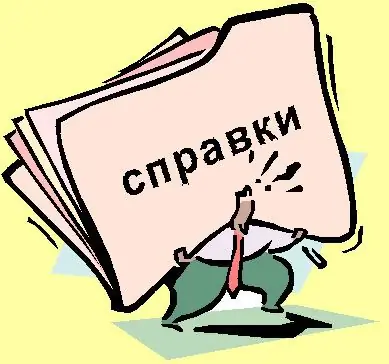 Necessary
A sheet of white paper, A4 size,
Computer and printer. If not, then a ballpoint pen is enough.
Instructions
Step 1
For example: an employee working in a trade enterprise needs a salary certificate for the last three months. In the upper left corner, write the details of the enterprise: company name, TIN, legal address, OGRN. Then below in the middle of the sheet is the word REFERENCE (all capital letters). Go down 1 cm, on the left side, write the date, month, year and reference number. On a new line, the name of the city.
Step 2
Now two or three spaces down, write the text from the "red" line (ie, departing 2 cm from the left margin). To whom (full name) the certificate was given, what position the person has in the organization, the date of employment, the number of the order, from what date. The size of the salary for the last three months is indicated. Below you write down the amount per month. Then, on a new line, the payroll base is usually indicated by the personal account.
Step 3
At the very bottom, on the left side, write the head, leave spaces for the signature and its decoding (surname and initials). On a new line, the chief accountant. For example: LLC "Argo"
INN 2304000000
353475 Gelendzhik, Veselaya street, 10, apt. 23
OGRN 1022300000000 S P R A V K A March 29, 2011 No. 9
Gelendzhik Dana Surname First name Patronymic that she has been working as a seller at Argo LLC since 05/06/03, order No. 3 dated 05/06/03, and her salary for the last three months of work was 30,000 rubles 00 kopecks.
including: December 2010 - RUB 10,000.00 kop. January 2011 - RUB 10,000.00 kop. February 2011 - RUB 10,000.00 kop. Total: 30,000-00 (thirty thousand) rubles 00 kopecks.
Reason: Personal account. Director of LLC "Argo" Ramyan A.S. Chief Accountant Popova E.A.