Organizing a conference requires careful preparation. By dividing this process into stages, you can minimize labor costs at a high level of the event.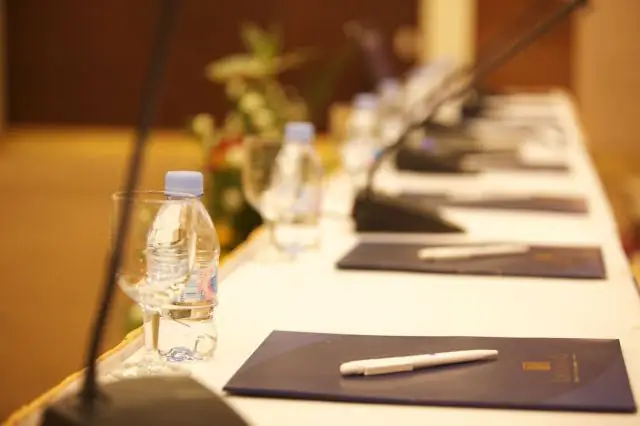 Necessary
Computer with Internet access and help programs for the city, telephone
Instructions
Step 1
Decide on the topic of the conference, the number of potential participants, timing and lecturers. Negotiate with lecturers to obtain consent to speak.
Step 2
Based on the topic and the planned number of participants, it is necessary to select options for the conference venues. These can be houses of culture, conference halls of hotels, restaurants, recreation centers and more. The selection is carried out by means of a search on the Internet and various city directories, based on the data obtained, a table of potential places is formed, indicating the name, address, phone number, number of places, cost and availability of the necessary equipment (for example, a projector, screen, microphone).
Step 3
Call the resulting database of potential places and clarify, if possible, on the desired days, the cost of rent, the availability of additional services (for example, organizing a buffet table). As a result, choose a venue and date.
Step 4
Develop a corporate style for the conference (symbol, slogan, colors, etc.) and decide on the required products (branded notebooks, pens, invitations, T-shirts, and more). Order products for the event in souvenir companies. Also form the planned program.
Step 5
Send invitations to potential participants on letterheads by e-mail or by means of a non-standard solution using a courier / mail (for example, to a conference on floristry in the form of a flower made of fabric on a design cardboard).
Step 6
Registration of participants, details of the program, assistance in transfer and selection of accommodation (if necessary). Working with subcontractors for organizing a buffet table, photography and more.
Step 7
On the eve of the event, check the readiness of the hall - equipment, souvenirs, organization of a buffet table and more.
Step 8
During the event, it is necessary to coordinate the work of subcontractors: promoters, catering services, photographers and more.
Step 9
After the conference, send an e-mail on letterhead gratitude for participation in the event, you can ask for feedback.