When registering a marriage, each of the spouses can take the surname of the husband or wife, as well as not change the surname and wear their own, or arrange a double, which will be written through a dash. If the marriage between the spouses is not dissolved, but one of them wants to change the surname, this can be done at the registry office at the place of registration of the fact of birth, marriage or at the place of residence.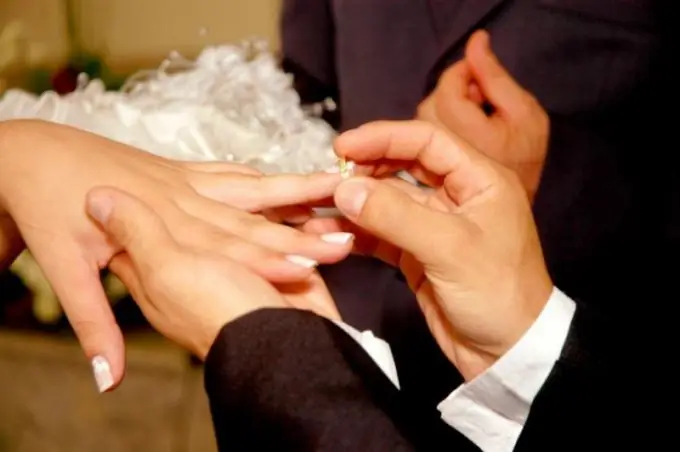 It is necessary
- application to the registry office;
- birth certificate;
- passport and copy;
- Marriage certificate;
- a copy of the birth certificate of children or a child.
Instructions
Step 1
In accordance with Article 58 of the Federal Law, you have the right to change your last name, first name and patronymic by submitting an application to the registry office. If the marriage is registered, but you have not changed your surname, then at any time you can contact the civil registration authorities, write a statement indicating the reasons that prompted you to make the changes.
Step 2
In the application, write your full name, date, year and month of birth, home address and address of actual place of residence, if you do not live at the place of registration. If you have children under 18, please indicate the full names of all children, date, month and year of birth. Attach a copy of your marriage certificate, a copy of your birth certificate, passport. Put your signature and the date of the document under the application.
Step 3
Your application can be considered for up to two months. This is the period provided by the Federal Law in such cases. After the specified period, your surname will be changed. You must contact the Federal Migration Service and inform about the change of your surname, as well as change your passport and other documents that were issued for the previous surname.
Step 4
If, when registering a marriage, you switched to the surname of your husband or wife, but during the marriage period you want to change your surname and get your old name, which you had before the registration of the marriage, then the re-registration procedure is carried out in the same way.
Step 5
Submit an application to the registry office, attach a copy of the marriage certificate, a copy of the birth certificate. In accordance with the law, you have the right to change your surname to any one, but the changes must be recorded in the migration service and you will also have to replace all documents.