For many decades, young girls who graduated from school have been dreaming about the profession of a flight attendant. She still remains among the most attractive, largely due to the external surroundings that surrounds the stewardess - blue sky, courageous pilots, fast and comfortable planes.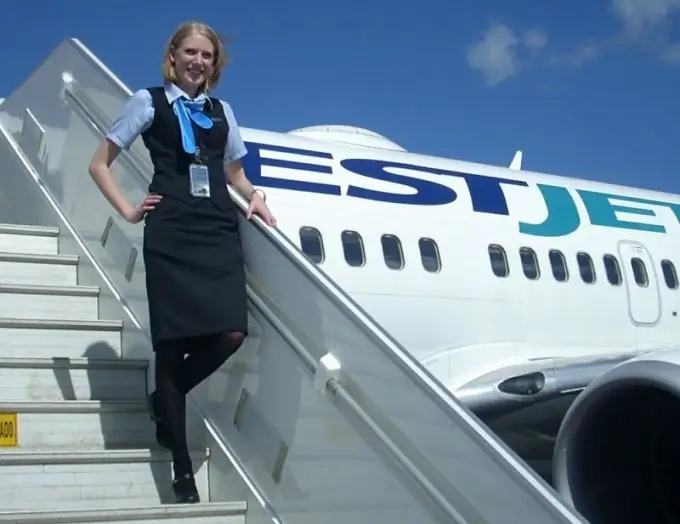 Instructions
Step 1
If you are thinking about how to become a flight attendant, first determine how suitable you are in terms of external parameters. A Russian citizen, a girl from 18 to 27 years old, with a height of 165 to 190 cm, weighing from 54 to 65 kg, can be a flight attendant. The color of your eyes and hair does not matter, but you must have good posture, be attractive and free from external defects, tattoos and scars on exposed parts of the body.
Step 2
It is good if you already have any special education, but girls who graduated only from high school are also accepted for flight attendant courses. A prerequisite is knowledge of the basics of a foreign language - English, French or German at the level of two-year courses or three years of study at the institute. In addition, you must be able to express your thoughts coherently and competently and your speech must not have any defects in pronunciation.
Step 3
The special requirements of the profession also place high demands on the physical health of the flight attendant. It must be flawless and no fake certificate will help you - the flight commission will check it.
Step 4
In the event that you meet all of the above requirements, send an application for admission to flight attendant courses to one, or better, to several airlines, whose offices are located in the city where you live. Such courses start working in spring or autumn and last 3-3.5 months. After the interview and health check, you will be enrolled in them. As a rule, these courses will be free for you and paid for by the airline.
Step 5
Despite the fact that you will not be studying for a long time, the intensity of the classes is quite high - you will have to attend them 6 times a week. The training consists of a theoretical and practical course, which complement each other. After studying them, you have to pass an exam, which is held in the form of an interview or testing. In case of positive ratings, you will be enrolled in the airline's staff and your dream will come true.