The main task of restaurants and cafes is to provide a high level of customer service. The entire staff of the institution is involved in this process. The key role is played by waiters who come into direct contact with visitors. Their compliance with certain rules contributes to a high level of customer satisfaction.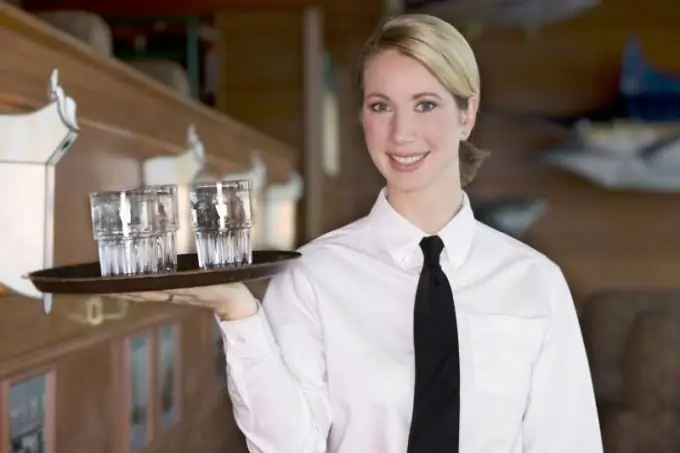 Service rules
All actions of the waiter are aimed at creating a favorable impression of the establishment for the guest. It is worth remembering that attentive and friendly service can brighten up a bad experience of tasted dishes. And vice versa, no culinary masterpieces will help an institution with a boorish and indifferent staff. A good waiter should represent courtesy and do whatever it takes to make the customer happy. He puts the interests of the guests first.
First of all, waiters need to know the standard service scheme. New guests must be approached within a minute. Suggest a menu starting with a senior person. Women need help to sit down and bring a special chair for a small child. The waiter asks if they would like any drinks. If visitors need some time to make a choice, the waiter waits patiently and watches them closely and comes up at the first call.
If they ask for advice, the waiter is interested in the tastes of a particular person and, on their basis, extensively and colorfully recommends a particular drink or dish. He must know their composition and preparation method. It is recommended to use more "tasty" words for the description: "aromatic", "juicy", "crispy", "fresh", etc. The waiter must be involved in the dialogue, absent-mindedness and indifference are not allowed. At the end of the order, you must warn about the cooking time and ask about the preferred order of the brought dishes. Drinks are usually delivered 1-5 minutes after ordering.
Behavior and appearance
The waiter should be tactful, not start conversations on extraneous topics. In the event of a conflict, you need to behave with dignity, without stopping to rudeness. You can't be too close to guests. The waiter keeps his hands in plain sight, it is not allowed to adopt frivolous poses. Also, while in the hall, the waiters do not cough, do not touch their face and hair, do not itch. They do not sit at tables, do not conduct loud conversations among themselves, do not stand with a demonstrative look. The waiter's uniform and hairstyle are neat, the shoes are polished. He should give the impression of a tidy person.
Going to work, the waiter should forget about his personal problems for a while. They should not affect the professionalism of the service. The face should always remain friendly, the gait - confident. This is one of the most difficult moments in the work of a waiter - the need to "keep the brand" all the time. In any physical and mental state, the waiter must play the role of a caring and conscientious person.